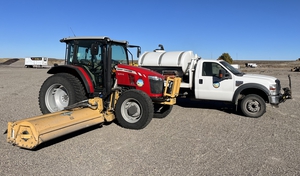 The goal of the Bingham County Weed Department is to achieve quality vegetation management, therefore; preserving the value of properties and the great outdoors. To accomplish this we coordinate with the State and local property owners as well as other counties and government.
Our main responsibility is to manage the Bingham County roadsides for invasive (noxious) weeds, this will help maintain a healthy road shoulder with desirable grasses. This will also help in limiting roadside obstructions and minimize fire fuels. 
Mission Statement
 To manage and control noxious weeds throughout the county in order to preserve local resources in accordance with the Idaho Noxious Weed Law. We promote these efforts by utilizing integrated  weed management practices consisting of education, prevention, mechanical, biological, cultural, and chemical control.